LillyPad Greeting Cards

Cards from the Irfon Valley, Wales

Group of Greeting cards

5 x A6 with envelopes - minimal postage (e.g £2 for UK)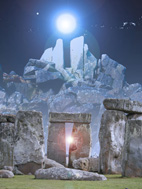 A6 cards with images linked to Stonehenge and Preseli Bluestone


The Mahavidya Collection

Ancient Indian seers conceived of Time and Space, entire existance as manifestations of the God and Goddess, Siva and Shakti, the inner reality of which the Universe is an outer echo. Through understanding and knowldge of these forces we can attain the limitless supreme bliss of Reality.

These cards represent these and their related energies.


These are images of the energy spirit of power plants.

All Greeting card images are the copyright of Simon H Lilly